Deepavali: firefighters to conduct awareness campaign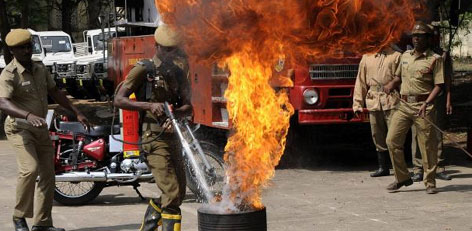 With the festival of lights fast approaching and sale of crackers expected to gain momentum in the coming days, firefighters in Tiruchi district are all set to embark on a series of awareness campaigns on ways to avert fire accidents and burn injuries.
The campaigns will be held at busy hubs, educational institutions, wholesale vegetable markets and bus stands across the district. Ahead of the festival, firefighters have charted out a week-long campaign to drive home the message in interior parts of the district as well.
The programme will start from October 12 and go on till October 17, which is Deepavali-eve. Teams of firefighters attached to Tiruchi, Srirangam, Lalgudi, Navalpattu, Pullambadi, Thuvarankurichi, Manapparai and Uppilliyapuram fire stations will conduct the campaigns in their respective jurisdictions, said a senior official of the Fire and Rescue Services Department here.
In Tiruchi city, some of the chosen spots include Gandhi Market, Central bus stand, Main Guard Gate and Srirangam bus stand.
Similar programmes have been planned at Tiruverambur, Sozhamadevi, Thuvakudi, Lalgudi, Thuvarankurichi bus stand, Pullambadi bus stand, Pullambadi Government High School, Kovilpatti, Viralaimalai road, Manapparai Sandhai, Manapparai bus stand, Koppampatti village near Uppiliapuram, Venkatachalapuram, Uppiliapuram bus stand and B. Mettur village.
Firefighters will circulate pamphlets containing messages on celebrating Deepavali safely to prevent injuries and avert fire accidents, said a senior fire department official.
They will also appeal to the public to desist from lighting crackers of high decibels near hospitals and old age homes, besides firing rockets near thatched localities.