The heat's already on, brace for more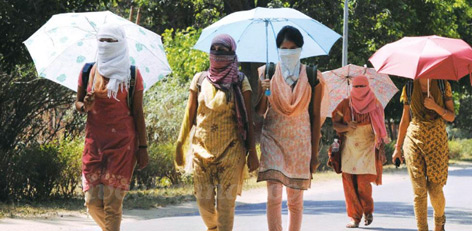 (Rep image)
It is the time again to turn on the summer mode as the mercury levels have started gradually increasing in the city. Going by the forecast from India Meteorological Department (IMD), Trichy and other central districts in the state are most likely to witness an upward deviation in the normal maximum temperature for the next few days. And, with the dog days making a comeback, Trichiites have started thronging the refreshments stalls despite the soaring prices of the summer fruits and drinks.
March, being a month synonymous with the board examinations that shoots up the anxiety level of students, also happens to be the start of the dedicated summer in the peninsula. The maximum day temperature from 31 to 32 degree Celsius in the mid-February has now shot up to 35 degree Celsius, resulting in tender coconut and watermelon stalls mushrooming along the streets.
Putting up with the sizzling mercury in the city, prices of tender coconut and watermelon are shooting up. High demand from retailers and juice vendors is only adding to the soaring prices. "Last year, a piece of tender coconut during March was sold at Rs 40. Now the price of tender coconut has touched Rs 55-60. Though there is good demand, we are facing difficulty in sourcing quality tender coconuts," V Mani, a tender coconut seller in Bharathidasan Salai said. Since the production of tender coconuts in delta districts have come down, traders largely depend on Pollachi and adjoining hamlets to source coconuts which evidently increase the transportation charges. Despite the surge, people are often seen in large numbers sipping the tender coconuts to keep themselves hydrated.
Echoing similar views, A Dhanasekar, a watermelon trader, claimed that the price of watermelon has increased by Rs 3-5 per kilogram owing to the heavy demand. Similarly, people are making a beeline to the porridge and cucumber stalls in the city signifying the change in weather. "Daytime will be generally warm in central districts as well as there is no chance for summer showers in the region at least for the next few days. Maximum temperature in the region will see an increase by 0.5 to 1 degree above the daily maximum temperature recorded between 1980 and 2011," Dr S Balachandran, director, Area Cyclone Warning Centre in Chennai told TOI.
Meanwhile, medical practitioners in the city have urged the public to consume quality refreshments. "It is better not to go for chilled and aerated drinks. Lemon juice with adequate amount of salt and sugar could be an affordable rehydration drink for all to battle the summer," Dr M A Aleem, neurologist said. As the mercury level will be heading north from now on, and also alerts from IMD forecasting a warmer month, it is time for Trichiites to dust down the summer gears.
Source