Centre plans Chennai-Trichy expressway
CHENNAI: Even as the fate of Chennai-Salem greenfield corridor is caught in legal wrangles, the Union road transport ministry has proposed a second greenfield corridor connecting Chennai and Trichy, with a spur to neighbouring Thanjavur under the ambitious Bharatmala Pariyojana phase II. Subsequently, the corridor will link Pillaiyarpatti and Tuticorin.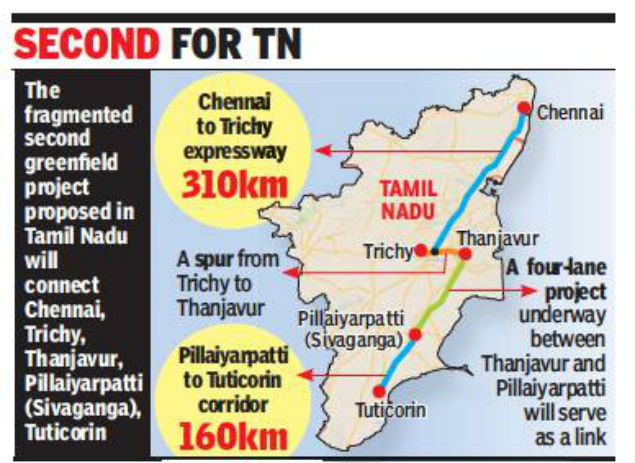 The National Highways Authority of India (NHAI) recently invited consultants for preparation of detailed project reports for development of expressways, economic corridors and inter-corridors under phase II for about 6,747km across the country. They include projects in Tamil Nadu too. The last date for submission of bids for consultants for the entire project is January 31. The extent of land to be acquired will be known only after the study. "The main objective is to find out technical, economical, and financial viability and prepare reports for development of economic corridors, inter-corridors, and feeder routes," said an official. Chennai-Trichy expressway will be 310km long, while Pillaiyarpatti-Tuticorin corridor will be 160km.
In what could aid the corridors, NHAI has already taken up land acquisition for the four-laning of Thanjavur-Pillaiyarpatti road for 82km to link NH45B at Melur. Preparation of detailed project report has begun, and the executing agency issued its first notification in September last, declaring its intention to acquire land. According to official sources, the primary task of the consultant, among other things, will be to have public consultation with communities along the route, NGOs working in the area, other relevant stakeholders and government departments at all stages of the assignment. The technical, economic and financial viability of the project will have to be established in the project report.
While the popular NH45 that connects Chennai with Trichy is buzzing, Union minister Pon Radhakrishnan said the construction of greenfield corridor would help reduce travel time and accidents. "People demand roads but create problems while acquiring lands. There is huge congestion on NH7 connecting Kanyakumari and there is an imperative need to widen stretches at Chengalpet and Tindivanam. The BJP government is doing these projects to create better infrastructure," the minister told TOI. Given that upgradation of existing two-lanes to four and six-lane involves acquisition of land, shifting of utilities, felling of trees and other statutory clearances, the NHAI has decided that land for any four and six-lane road project will be acquired with a right of way of 70m.
Source