Lawsons road to go green, get pedestrian platform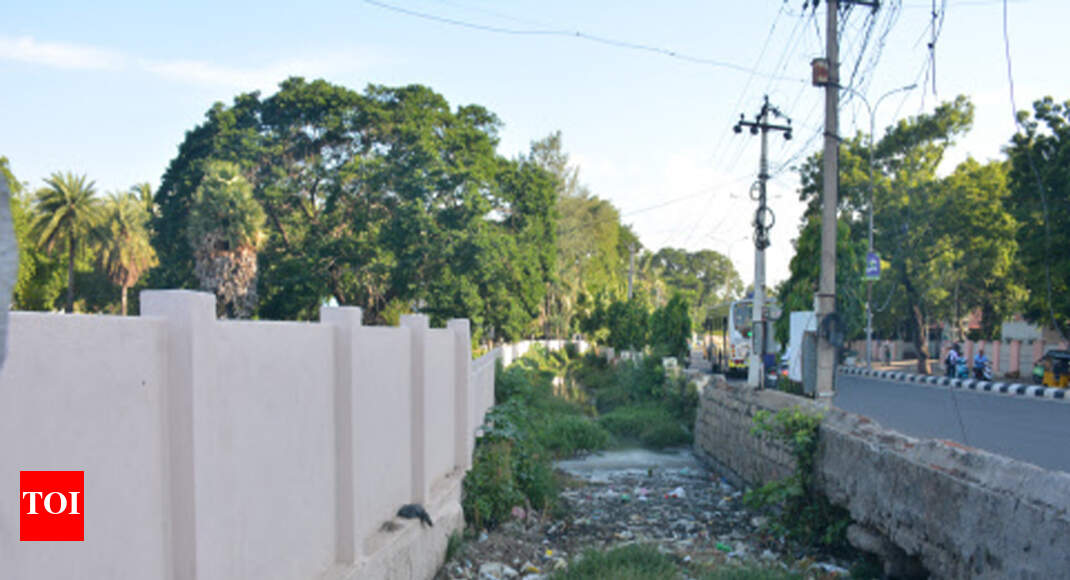 Trichy: Lawsons road in Cantonment is all set to get a major makeover as the city corporation has initiated efforts to add greenery and a new pedestrian platform to turn a portion of the arterial road into non-motorised transport (NMT) corridor. As the drainage-carrier adjacent to the road has been facing rampant pollution from the solid waste dumped, the canal would be covered to create exclusive space for pedestrians as part of the beautification drive.
The drainage canal running along Lawsons road has been carrying the sullage of residential localities and some commercial establishments on Bharathiar salai and Cantonment. Though filters were installed in the canal which runs through McDonalds road, Warners road and Reynolds road and drains into the Uyyakondan canal, the civic body said that solid waste was constantly dumped into the carrier thus resulting in its frequent clogging.
To overcome the constraint and also to utilise the vast space available on Lawsons road opposite to Ayyappan temple, Trichy Corporation mooted an NMT corridor plan by laying RCC slabs over the drainage carrier to develop a pedestrian walkway for about 450 metres. "The drainage carrier along Lawsons road was odd as foul smell emanates from it. By covering the canal, the road which is dotted with temple and eateries will attract a lot of pedestrians," said V B Jeganath, member, Trichy Intra-City Development Endeavours (TIDES). As the level of Lawsons road was higher than the space available for people to walk, complaints were raised about the safety of pedestrians using the stretch in the evening to visit the Ayyappan temple.
Civic body sources said that a tender was floated to install tiled pedestrian pavement at an estimated cost of Rs 18 lakh from the road branching off from MGR roundabout junction till Reynolds Road junction. "We have plans to make the median spacious to grow decorative plants. While covering the drainage canal, provisions to clean the carrier will also be made," corporation commissioner N Ravichandran said. Sources said that either the civic body's general fund or the exclusive fund for NMT corridors from the Union government would be utilised for the beautification project.
Works for providing the pavement along Lawsons road are expected to be taken up in a couple of months. It may be noted that TOI had on September 4 carried a report titled "Clear storm water drains in the city, residents tell corp" highlighting the solid waste dumped in the Lawsons road drainage canal.