50 encroachments near Rockfort complex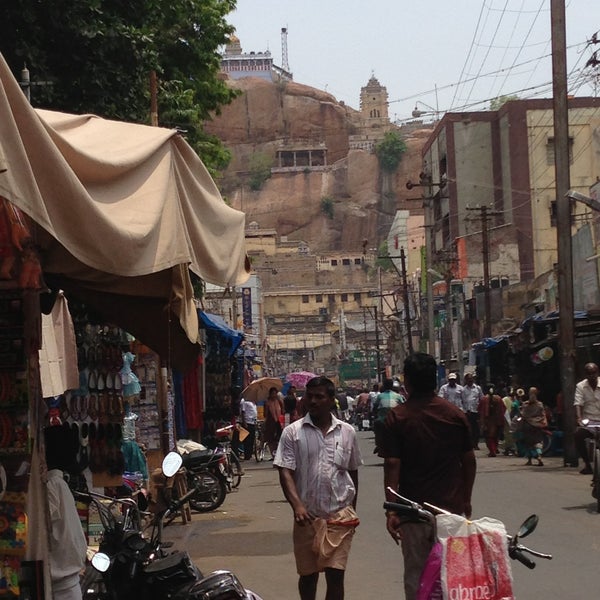 Trichy: The city's iconic Rockfort hillock, home to Thayumanaswamy and Uchchippillaiyaar shrines, has not been spared of encroachments as well. The directive from Madurai bench of Madras high court setting December 31 as deadline to remove them apply to 15 temples across the state including Thayumanaswamy temple. Following the high court's directive, HR&CE, which manages the Rockfort complex, has sent eviction notices to as many as 50 encroachers outside the complex.
The 83-metre-high Rockfort hillock is a historical monument comprising Thayumanaswamy shrine close to its base and Uchchippillaiyar temple atop, which can be accessed through 417 steps. With only two entrances to the temple complex, one over the NSB road and other through Sarukkupparai stretch, around 2,000 people on an average visit the hillock using one of the two entries to reach the topmost spot of Trichy city.
However, both the entry points are marred by temporary and permanent encroachments that hinder free movement of pilgrims. "Entrances are too narrow for pilgrims to exit temple complex in case of an emergency for which encroachment is the reason. Trichy corporation as well as HR&CE management of Thayumanaswamy temple should evict hindrances to public movement," R Sundararajan, secretary, Rockfort Welfare Association, said. While residents claim that encroachments do exist inside the temple complex, HR&CE claimed that encroachments were identified near entrances only.
The residents welfare association also accused HR&CE of taking a soft stance towards evicting encroachments nearer to Manickavinayagar shrine. "We have already issued eviction orders as per the directives of high court bench. We also made it clear that we do not have alternative places for relocating the evicted traders," an official source with HR&CE said. Besides the eviction drive planned by HR&CE department, residents also urged Trichy corporation to remove encroachments which obstructed NSB road, Chinnakadai street and Andar street which gave access to the city's most celebrated tourist spot.