Unscientific vehicle parking throws anti-encroachment drive out of gear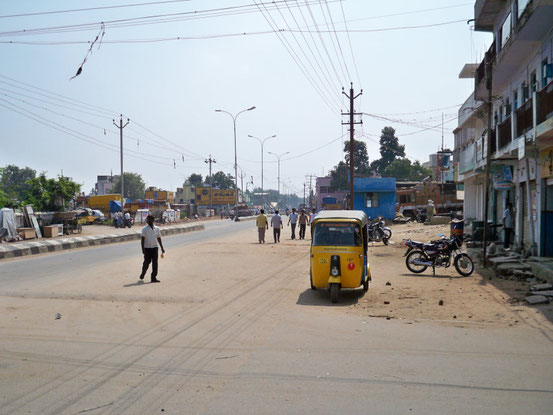 Three weeks after Trichy Corporation cleared encroachments eating away ample width of motorable space in East Boulevard (EB) road near Gandhi Market, the continuing haphazard parking of heavy vehicles in the same stretch fails the very purpose of eviction drive conducted. Even as a paid parking lot of the civic body is available in EB road, the drivers refraining to park their heavy vehicles in the parking lot have been making a portion of EB road as their parking arena, sustaining the traffic congestion.
EB road being an arterial stretch connecting Gandhi Market and Trichy town railway station with Odathurai road, subsequently to the Chennai bypass road, often face traffic snarls. Even though the stretch is 50 feet wide, encroachments and parking of heavy vehicles eat up at least 20 feet space of the road, making the commuters to go through aplenty of bottlenecks in the two-kilometer stretch. Acting on the complaints, Trichy Corporation on November 25, evicted the encroachments of more than 100 shops on either side of EB road mostly temporary shelters.
However, three weeks later, encroachments are gradually returning to the same stretch and also the road has been unofficially reinstated as a parking place for heavy vehicles mostly trucks visiting Gandhi Market. "A week or two after the eviction, trucks stayed away from being parked in EB road. Since traffic police personnel are not visiting the stretch on daily basis, trucks continue to occupy a portion of available road space," B Sarvanakumar, a resident of Palakkarai said.
Corporation sources said that about 1.5 acres of paid parking lot exclusively for trucks remain seldom used by the drivers.
Though the facility is capable of accommodating 50-60 trucks at a time, the heavy vehicle drivers continue to park their vehicles on the road, thus causing congesting in EB road stretch between Gandhi Market and Murugan theatre. "It is the duty of traffic police to make the truck drivers park their vehicles inside the corporation's parking lot. The presence of vehicles shrink the 50 feet wide road, paving way for gradual encroachments by the shops in the road by setting up temporary shelters," a corporation official in Ariyamangalam zone said.
When contacted, sources in traffic police said that drivers are hesitating to park their vehicles inside the corporation's parking lot citing the time consumed to park and drive the vehicle out of the parking lot. "We will monitor the stretch to prevent traffic snarls," the traffic policeman added.
source