International passenger traffic goes up in Tiruchi airport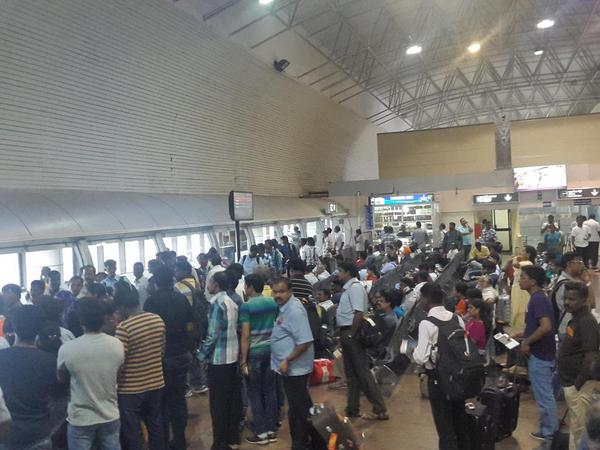 From April to September this year, the airport has handled over 6.95 lakh passengers
International passenger traffic and overseas flight movements is on an upswing at the Tiruchi airport in the current fiscal as per the statistics provided by the airport authorities.
Between April to September this year, the airport handled over 6.95 lakh passengers – both arrival and departure put together. This is nearly 1.11 lakh more than in the previous year during the corresponding period.
The airport has more overseas flight operations than domestic services. The number of international flight movements from Tiruchi is around 800 a month. This is poised to increase with the introduction of a new service in the Tiruchi - Bangkok - Tiruchi sector four times a week by Thai AirAsia.
Passenger movement to Kuala Lumpur is more when compared to other overseas destinations as seven flights are being operated every day to the South East Asian destination by Air Asia and Malindo Air.
Flights to Kuala Lumpur have had a very good patronage. This is the peak season wherein incoming and outgoing movement is full in the Tiruchi – Kuala Lumpur – Tiruchi sector.
Fly-through passenger percentage is more in the Air Asia flights being operated in the morning and late night hours from Tiruchi. These passengers travel to Australia, Manila, Bali, Jakarta, Taiwan and Singapore as they have an immediate connection from Kuala Lumpur upon arrival.
Direct flight services from Tiruchi to Kuala Lumpur and back is the highest when compared to other airports in the southern region. Two months after launch of the new service to Thailand by Thai AirAsia, the passenger load factor in those flights is about 75%.
Flights are operated every day to Colombo, Singapore, Dubai and Sharjah by Sri Lankan Airlines, Air India Express and Scoot. Overseas flight movements at Tiruchi has shown an upward trend with movements being over 4,900 during the first half of the current fiscal as compared to 3,886 during the corresponding period of the previous year.
Passenger traffic is expected to rise in the second half of the current year following introduction of new service to Thailand from here. Although the growth has been robust, the airport has seen a decline in domestic movement despite introduction of Alliance Air a few months ago. With direct connectivity being only to Chennai at present, the domestic passenger movement in the first half of the current fiscal was a little over 60,000.
This has been less when compared to the corresponding period of the previous year when the airport handled around 90,000 passengers. Travellers have been pressing for introduction of flights to more cities within the country from Tiruchi.
Source:http://www.thehindu.com/todays-paper/tp-national/tp-tamilnadu/international-passenger-traffic-goes-up-in-tiruchi-airport/article21252951.ece