Trichy MP claims Nirmala Sitaraman promised transfer of defence land for airport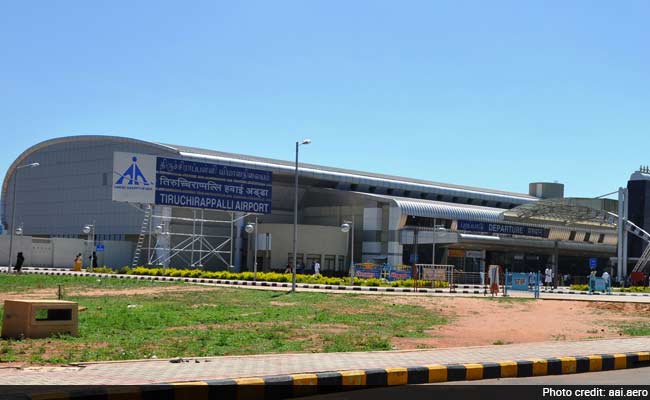 The process of runway expansion of Trichy international airport is expected to gather pace after an assurance given to Trichy MP P Kumar by the defence minister to hand over the land possessed by the ministry to the Airport Authority of India.
Defence minister Nirmala Sitaraman had assured Kumar, also Airport Advisory Committee chairman, to do the needful for the same after being handed over a memorandum in Delhi recently.
The Trichy International Airport which is located in the centre of Tamil Nadu has been acting as a hub and caters to the travel needs of people from 5-6 neighbouring districts. A new 'state-of-the-art' Integrated Terminal Building at Trichy International Airport is also going to be constructed at the cost of Rs 897 crore. It has all the facilities like customs, immigration etc. In view of the growing traffic at Trichy Airport, an expansion plan for the development of this Airport is undertaken, said in the memorandum.
The total land to be acquired for the expansion project is 683.32 acres, out of which 345.62 acres of land belonging to the state government, for which administrative sanction was accorded by the Chief Minister on May 4, 2017. The land acquisition process is underway.
The rest of the land, to the tune of 337.70 acres belongs to the defence and hence, there is a need to transfer this land to the expansion project. In this regard, the Airports Authority of India is pursuing with the defence estate in New Delhi. He had requested to transfer defence land to the Airports Authority to enable early completion of the expansion project of Trichy Airport, it added.
To grant in-principle approval for the transfer of defence land, the stalling Road over Bridge at Aristo roundabouts is completed forthwith.
The RoB is completed 85 percent but the approach ramp on the Chennai arm is pending for completion, for the last two years, due to lack of 'in-principle' approval for the transfer of defence land to the extent of 0.26855 hectares. The total cost of the project is Rs 74 crore, which is under Railway Works Program 2009-10 Scheme.
While the Dindigul arm of this RoB is completed and already opened for traffic, the Madurai arm will be opened in a few months. When contacted, MP P Kumar told TOI that the defence minister had assured to hand over the land to complete both projects without any hurdle. So, there would not be any block to execute airport development works as well as RoB completion, he added.
Source:https://timesofindia.indiatimes.com/city/trichy/trichy-corporation-launches-swachh-logo/articleshow/61737281.cms