Trichy corporation floats tender to expand Karur bypass into four-lane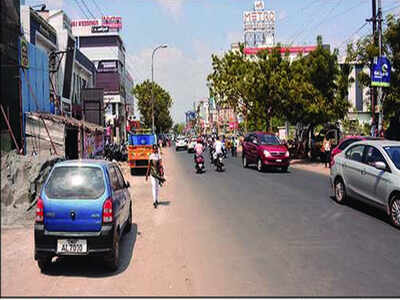 TRICHY: A solution to decongest the rapidly-developing Karur bypass road is just a step away as Trichy corporation has finally floated a tender inviting bidders to take up the Rs 7.75 crore project to expand the narrow two-lane road into four-lane.
The development project taken up under Infrastructure Gap Filling Fund (IGFF) envisages providing an exclusive bicycle track, pedestrian platform and adequate space for on-street car parking on either side of the arterial road dotted with commercial establishments.
Though the civic body evicted the encroachments on the stretch about three years ago, widening of the Karur bypass road did not materialize. Bowing to local pressure, the civic body has finally woken up to develop the road by utilising the IGFF fund.
After obtaining consent from the state government to take up the expensive road project, Trichy corporation floated a tender a couple of days ago. Officials said that the width of the Karur bypass road will be doubled after the completion of the project. A median would come up on the stretch to enable LED lamps and the two-lane stretch will be widened to four-lane stretch.
"We will position the under ground drainage (UGD) chamber to come up on the pedestrian platform so that if any blockage happens, we don't need to dig the road. UGD work will be taken up and completed simultaneously along with the road development," an official source said.
The civic body will provide duct infrastructure for future needs to transport cables underneath the road to avoid damaging the road for laying cables. Since parking woes affect the vehicular movement on the stretch, the widening project will earmark 2metre wide space on either side of the Karur bypass road to park vehicles.
Covering the stormwater drain, as the vicinity is prone to flooding, a pedestrian platform of 4 metre width will be laid on either side. "Having floated the tender, civil work for the project will be taken up at the earliest, at least by July," corporation commissioner N Ravichandran added.