Trichy corporation earmarks land for semi-ring road in Panchapur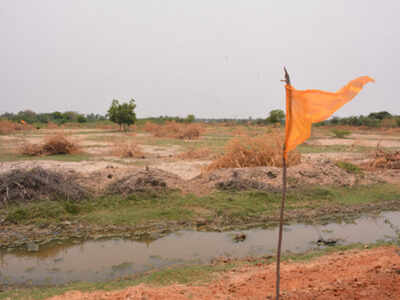 Flags marking the boundaries of semi-ring road passing through Trichy-Madurai
TRICHY: In a significant move to expedite the pending work of the semi-ring road, Trichy City Corporation has surveyed and earmarked land at Panchapur for the project. As the National Highways Authority of India awaits the model code of conduct (MCC) to be lifted to initiate the land acquisition process, the residents said that the local body's efforts to mark the boundaries of the land will push the other stakeholders to perform their role in making the project a reality.
The semi-ring road project, officially addressed as NH 81 (old number 67) expansion project, linking Jeeyapuram on the Karur-Trichy NH 81 with Thuvakudi on the Trichy-Thanjavur NH 83, was proposed in 2007. But the project, which links five NHs, has been dragging on for about 12 years now for various reasons including the farmers' protests in the past and poor planning. The project was bifurcated into two stages namely Jeeyapuram to Panchapur as stage 1 and Panchapur to Thuvakudi as stage 2, both have a lot of pending work.
Meanwhile, Trichy City Corporation, which recently planned to develop Panchapur, has surveyed and marked the boundaries of the land allotted for the semi-ring road. "For easy identification of the land, we have marked the boundaries of the alienated land in ward number 39. Flags have been erected to identify the site," an official with the corporation said.
About 37 acres of land having 61 metres of width was identified by the civic body near Panchapur STP site in the Ponmalai zone for linking the Trichy-Madurai NH with Trichy-Pudukkottai NH. "The corporation has done their part. Now, it is the responsibility of NHAI to identify a contractor for launching the work," M Muthuganesan, member, Trichy Intra-City Development Endeavours (TIDES), said.
Local people said that the latest development could push NHAI to expedite the pending project. NHAI sources said that gazette order for land acquisition will be published soon after the MCC was lifted. "Efforts to acquire 46 hectares of land will be completed in the next four months," an official source with NHAI said.