Air fares to small towns up for Pongal
CHENNAI: High demand has pushed
air
fares from Chennai to small towns in the state and tourist destinations such as Goa northwards for travel during Pongal holidays .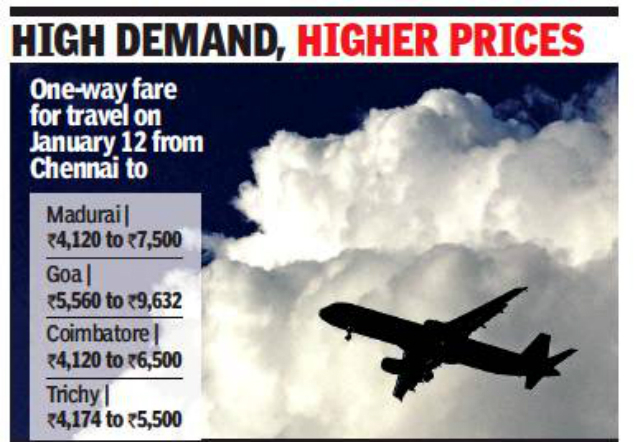 One-way fares to Madurai,
Trichy
, Tuticorin and Goa range from Rs 4,500 to Rs 8,500 for 10 days advance booking for travel on January 11 and 12. These
prices
are almost similar to the ones on metro routes from the city. The high demand could be because this year Pongal is part of a long weekend. Though the festival starts on January 16 (Tuesday), most people have planned to travel on January 11 or January 12.
Travel agents said prices are likely to cross the Rs 10,000-mark in the coming days, as more travellers may book tickets in the last minute.
For travel on January 12, fares range between Rs 4,200 to Rs 7,400 for travel from Chennai to Madurai, Rs 4,600 to Rs 7,300 to Tuticorin and Rs 4,000 to Rs 6,000 to Trichy. The rate is similar for other destinations. With more people wanting to spend time with their families, demand for seats is higher on small town routes.
Online travel portals showed that Chennai-Madurai and Chennai-Goa are among the most popular routes and fares on these sectors are likely to increase further in the coming days. Every hour or two, approximately 15 tickets are booked on the Chennai-Madurai route.
"Air fares are high because people travel home for the festival and also travel to leisure destinations for holidays. Fares to Chennai from international destinations including southeast Asia are also high because a good number of people travel to Tamil Nadu to meet friends and relatives," Basheer Ahmed of Metro Travels said.
Flying to Chennai from Singapore and
Malaysia
is also expensive with people travelling to the city to meet relatives. Ticket prices for travel from Singapore and Malaysia to Chennai range from Rs 18,000 to Rs 25,000 for travel during the Pongal holiday week. Usually, during non peak season, tickets cost between Rs 6,000 to Rs 8,000 one-way.
The high fares may have a big impact on travellers who make last minute bookings.
Millennials are among those who use long weekends for travel. Neelu Singh, CEO & director, Ezeego1.com, said, "We have observed that the number of people who opt for such holidays have gone up by 20% year-on-year."
Source