Despite restrictions in place, heavy vehicles still enter city
TRICHY: The restrictions laid out by the road safety council for heavy vehicles to enter the city for loading and unloading cargo has been thrown to the winds as the vehicles use the roads unmindful of the trouble caused to users. The scenario is especially worse near Gandhi market as getting past the
Madurai
and Vellamandi roads has become a nightmare.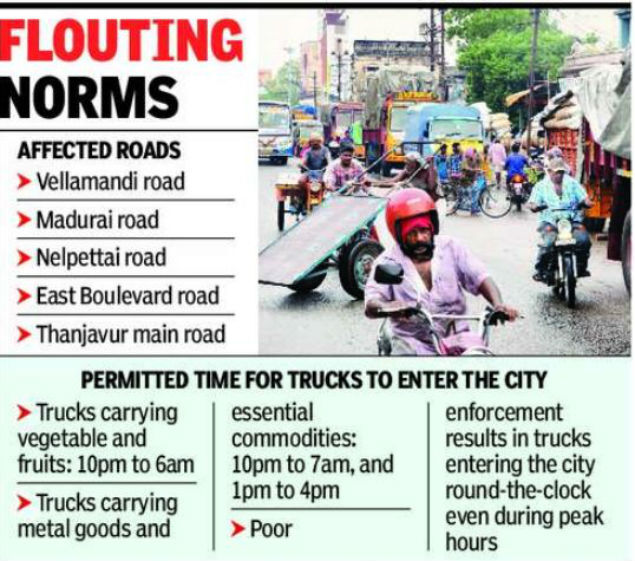 While trucks carrying consignments for commercial purposes were permitted to access the city only between 10pm and 7am and between 1pm and 4pm in the day, dozens of trucks parked on the Vellamandi and Madurai roads cause traffic bottlenecks every day. Police personnel manning the roads not far than 100 to 200m distance are seen regulating only the traffic and not taking any effort to shift the heavy vehicles.
"We have been demanding the city police to ban the entry of trucks in city limits between 6am to 10pm. Allowing trucks during day time brings a lot of inconvenience to the public as the truck drivers take the roads for granted," M Sekaran, member of road safety council said.
Recently, when the district administration permitted trucks carrying vegetables and fruits to enter Gandhi market between 10pm and 6am, the restriction was hardly complied with.
If trucks carrying vegetables and groceries occupy Vellamandi and Nelpettai roads to unload goods, metal traders take the Madurai road for granted to park the trucks.
When contacted, a senior official with city traffic police told TOI that soon the roads around Gandhi Market would be streamlined by punishing the haphazardly parked trucks.
Source